Dear reader, I am happy to report that this is my 13th post.
13.
Did you read the
3rd post
at all? About how I'm terrible at completing things?
Well, I'm rather chuffed to have reached double digits.
The key to my self-proclaimed success is simple. I have realised that I really like thinking out loud, online. Not because anyone is necessarily listening, but because I am enjoying writing like no time before in my life. I even managed to score myself a paid gig for copywriting this week, because I told my friend his own attempt was rather, er, lame.
Pays to be honest perhaps.
Having sufficiently patted myself on the back, let me start the gutsy part of this post!
Joost Bakker.
Pronounced Yo-st, as in yo, stick around, I have discovered and quickly become devoted to this new demi-god in my life. Lately, life has all but overtly
shoved
a few new inspirational characters in my face for me to take notice of. Joost definitely has pride of place on my demi-god shelf right now.
Let me explain how he attained this status so quickly.
Last Wednesday I attended the
Green Building Council of Australia
's (or GBCA) Sustainable Interior Design pow-wow in Brisbane after deciding that
wanting
to go was really not the same as
actually
going, and that I should really get off my behind and go. The first person I was greeted by when I walked in to the
Schiavello
show room that balmy evening (looking my damnedest to look architechy/designer-y) was Trudy-Ann King (also a demi-god) who interviewed me for a job with GBCA last year in Sydney (I turned down a second interview - whhhhyyyyyyyyy?!?!). She is a demi-god because she is so damn real, so damn smart and tells it like it is, no matter who she's talking to. She's also bloody nice and pretty funny. I put her on the demi-god shelf as soon as I walked out of my interview last year.
After experiencing an almost physical reflux of guilt for not taking the second interview last year, I found a seat for the presentations and afterwards asked a question or two. *Tangent alert* I cannot help asking questions at any kind of presentation. Any kind. My hand is up before I know what is happening and, more often than not, I am picked out by the speaker. I have a whole post to write on how this has dramatically changed my life, but now is not the time.
After the presentations, it was social mixing time. Not being an architect, builder, interior designer, industry representative or even a proper student of any of these categories, I decided to play offensively rather than defensively. Basically, I have found that the best cover for not having a solidly plausible reason for being where you are is to
always
be
trés
interested in the first person you meet and go from there. Predictably, this worked a charm, and it lead me to demi-god number two for the day -
Mark Thompson
.
Mark and I had a very long and interesting conversation about almost everything I like. From urban veggie gardens to creating recycled cardboard furniture for pre-schoolers to paint (love!), he was one interesting guy. I must have had a few ideas that he liked too because we decided to connect outside the conference to see what we could work on together. I drove home high on ideas.
That weekend, I was headed to Melbourne for Clare Bowditch's Big Hearted Business (un)-Conference. Whilst I had a vague notion of what I would be doing at this conference in Northcote before I arrived, by the end of the first day I had decided that there was probably a bit too much yoga and not enough business for my liking.
There was one speaker that really did pique my interest though, and that was Joost and his no waste cafe story. There is no bin in Joost's Melbourne café Silo. The only waste is from food scraps, and they are composted at Joost's farm. For a while the cafe didn't serve soy milk because they couldn't work out a way to buy soy milk in bulk. Soy milk usually comes in Tetra packs and no soy milk companies wanted to supply them in 30L reusable milk jugs (can you imagine all those Melbourne hipsters' heads popping off in disbelief? I can).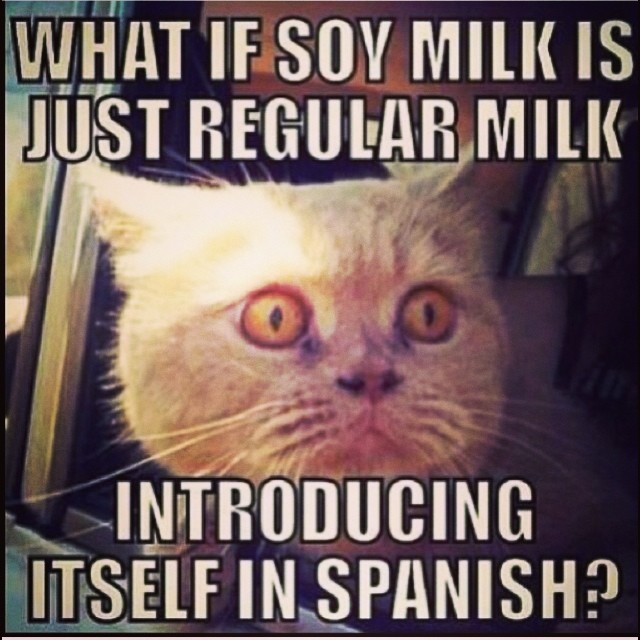 To solve the problem, and to keep the hipsters happy, the crew at
Silo
eventually started
making
their own soy milk on the premises from raw ingredients. Joost kind of admitted that he is currently losing money on the business, but when you are sufficiently successful from other work that you can spend money creating a never-been-done before no waste cafe project, I think monetary success is probably a moot point.
So I fell in love with Joost and returned home to sunny Queensland, thankful for all the energy savings we make simply because winter doesn't exist in Queensland.
Fast forward to Wednesday of this week, and I am catching up with Mark Thompson from the GBCA pow-wow at a classy establishment in Indooroopilly. I give a summary of the Melbourne conference which basically consisted of "Joost is awesome" to get things started, and then my head nearly popped off like a Melbourne hipster ordering coffee at pre-soy milk Silo.
Mark knows Joost. Really well.
They. Worked. Together. For a few years at Schiavello.
Mind = Blown.
Needless to say I am now saying yes to any involvement with Mark's projects I can possibly manage. He said I could help create and curate an exhibition of all the cardboard furniture in Paddington if I wanted to. I wept with joy on the inside. I visited the studio where the magic happens that afternoon and already wanted to live there, even if it is above a smash repairs shop.
This post has now meant that I need to go and update my list on post number three, as I have at least one more project to be getting on with. Cardboard furniture done right is really excellent, just in case you think I am completely bonkers.
See here done right at Mad Dance House on Adelaide Street in Brisbane.
Yes, there is a stray elbow in this photo.
I am now going to leave you with the complete list of those I admire and a brief explanation why. My religion is sharing the good stuff, so please, help yourself to a dose of wonderful human beings.
The Who's Who of Nicole's Demi-God Shelf.
-
Larissa Waters
Green's Queensland Senator and amazing woman in general. Blogs occasionally on Mamamia.com and tears it up on Q&A semi-regularly.
- Trudy-Ann King
GBCA heavyweight and fierce businesswoman. Also hilarious and really real, you know?
-
Joost Bakker
Eco-designer and multitalented good looking nice guy. He's married :(
- Mark Thompson
Phenomenally well connected eco-architect in Brisbane who has too many projects on the go - like me!
-
Nicole Cody
Spiritual guru who also happens to be a bloody good writer. I love how she does what she does, whether I take as fact all her fairy stories doesn't really matter, I just love fairytales.